Welcome from Donna Fisher-Jackson, MA, CHT
A California-trained Certified Hypnotherapist, Western Astrologer, and Author, Donna now makes her home on Cape Cod, Massachusetts. After traveling around the United States for three years in her Bighorn RV, she has now become a part-time RVer. Her book, Living the RV Lifestyle: Practical Advice and Personal Tales from Life on the Road is available on Amazon.
Donna is available for phone sessions and in-person sessions on Cape Cod. Contact her through her e-mail at donna.fisher.jackson@att.net and/or on Facebook messenger.

Sometimes on the path of Self-discovery, we need a guide to shed light on what is hidden from our own view, and to give guidance on our life's path. In my work, I think of myself as a messenger, sharing insights that I feel can be helpful for You.
My goal is to empower You on your own path of Self-discovery utilizing the tools of my trade in Hypnotherapy, the Enneagram Personality Type System, Past-Life Regression, Dreamwork, Western Astrology and the Mythic Tarot.
I look forward to sharing in your journey of Self-discovery.
Blessings on your path, Donna
To receive my monthly newsletter, Iris Insights, please join the mailing list.
---
Books by Donna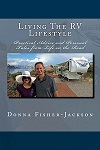 The travel adventure book, Living the RV Lifestyle: Practical Advice and Personal Tales from Life on the Road has been a dream in the making. After three years of Full-time RV living, it was time to write about the journey as well as share all that my husband, Jim and I have learned from this experience of traveling around the country. The book is a combination of practical information on the RV lifestyle as well as personal stories to give you a better idea of what it's really like to live as a Full-time RVer. If you have a dream of RVing, it's never too early or too late to make that dream a reality. This book can prepare you for the RV adventure of a lifetime. The book is available on Amazon.com as a paperback version and a Kindle edition.

The novel, Clara & Irving A Love Story of Past Lives available on Amazon.com and as a Kindle download, click here to go to the Kindle Store. Told through the eyes of Clara, and her granddaughter, Danielle, the novel unveils the lives of the two women, and the men that capture their hearts across time. From the 1920's to the present time of 2010, their two stories are interwoven revealing the intimate connection between the grandmother and her granddaughter who both share a love of the theatre, and the love of a soulmate.

The self-help book, The Healing Path of the Romantic: Type Four of the Enneagram Personality Type System which is available on Amazon.com. This book on the Romantic includes everything you wanted to know about the Type Four from leading experts in the Enneagram field along with relationship and healing tools that can be useful for any one of the nine types of the Enneagram.
---
As a Certified Hypnotherapist, I do not diagnose, prescribe, treat, or attempt to cure physical, mental or emotional disorders. I am not a licensed psychotherapist or physician. I am a Certified Hypnotherapist with the American Council of Hypnotist Examiners (ACHE) which is a professional organization chartered by the state of California to establish training standards, standards of professional practice, and a code of ethics.